Switch Division
In our quest to offer the best products in the industry, we have four key criteria that must be met before we will even consider any design changes, new products or manufacturing changes:
The product must last over 30 years in a harsh environment with virtually no attention.
Changes should not be made just for the sake of lowering costs.
Only those changes that can produce real product improvements or enhancements are to be considered.
Changes must make the product more competitive.
Here are some recent product additions and enhancements:
We have just introduced two new vertical break switches, the EA1 and EA2, with ratings up to 800kV and 4000 amps maximum continuous currrent rating. Using precision made CNC parts and extrusions plus minimizing the use of castings on the EA1 and EA2 allows us to manufacture a high quality switch at comparatively lower costs. See the new catalog section.


While keeping the basic design the same, we have made some major changes and improvements to our motor operator. These changes were initiated by requests and feedback from customers like you. Check the motor operator section of our catalog.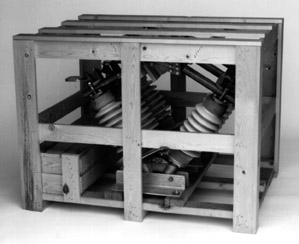 Morpac Type CBV 25 kV, 1200 ampere ready for shipment