90 Degree Valve Types -- Morpac Actuator Division
This type of actuator is characterized by the butterfly type of valve, where total movement of the valve is accomplished in a rotation of 90 degrees. These actuators are fairly universal in their application on these types of valves, and can be readily changed from one valve to another, with minimal or no changes required in position limit switch settings. These actuators are factory set up at a true 90 degree position. Only minor adjustments in the field would be required for errors in couplings, keyways or shaft variations. Each actuator has provision for independent setting of Open and Close torque.
10004 Shows another view of a Butterfly valve, this time, with the housing rotated 90 degrees from the base, to illustrate how various configurations can be made up to facilitate ease of access to the covers for installation and service. Again the valve is a Military type per Mil-V-24624. A 6" size is pictured. This unit is for a remote controller.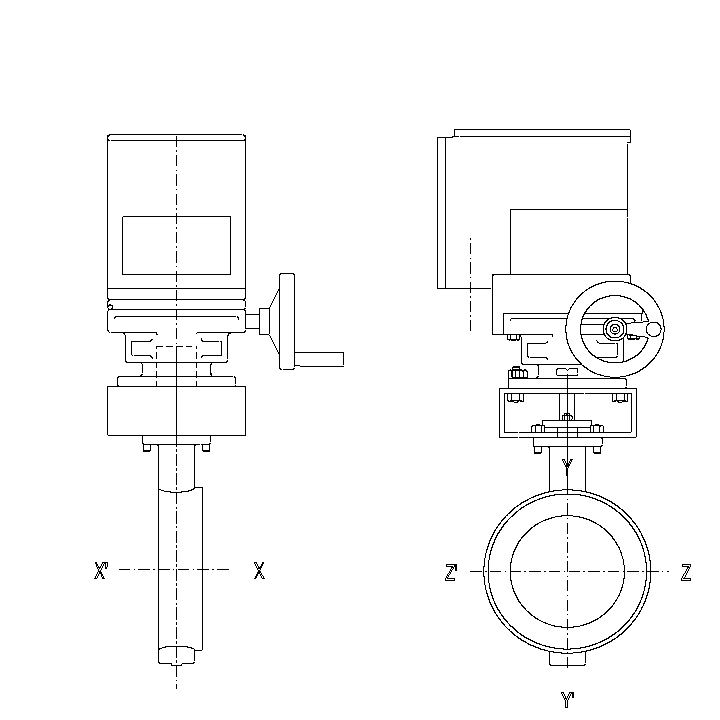 10005 This side view shows the addition of a local control box to the assembly as pictured above. The control box is cast bronze or aluminum, the same as the actuator, and is fully rated for submersible service for 48 hours at a depth of 21 feet of sea-water. In addition to the local control, provisions are provided for additional remote control from a distant point. Connections are furnished for remote push buttons and indicating lights. The valve shown is a Military Mil-V-24624 type in 8" size.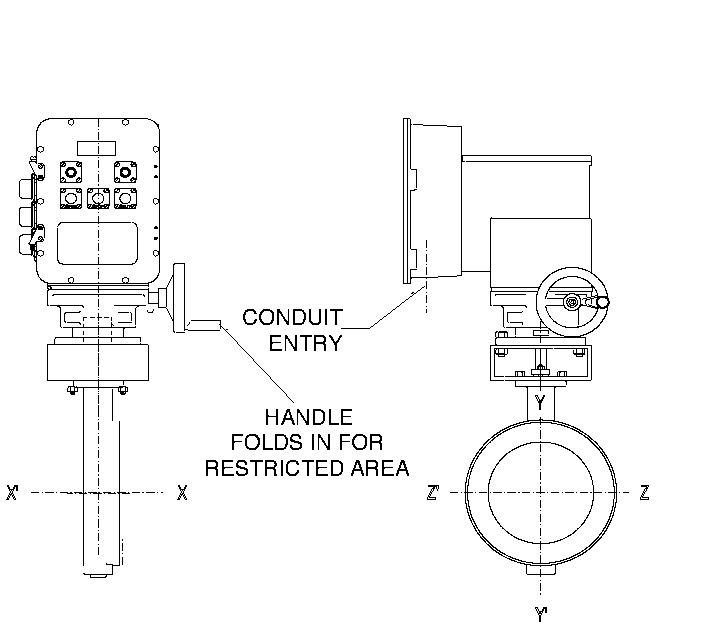 10006 This view depicts a Ventilation type Butterfly valve used in air duct piping between compartments aboard ship. It's purpose is to seal off a flooded compartment in case of damage and prevent water from passing from compartment to compartment. Because it is supported by the relatively light weight sheet metal duct work, this unit is all aluminum (including the valve) to reduce weight. The controller is submersible to allow operation under water. The valve is per Navy drawing 805-1749103 rev B. Because the actuator is heavier than the valve, multiple mounting attachment holes are provided for affixing brackets etc., to support the actuator, and the attached duct work. The view shows a Local controller, but remote versions are available. These valves operate over 90 degrees. Mechanical stops are provided for handwheel operation.